Eye injuries in the workplace are unfortunately common. Workers who experience an eye injury while on the clock generally do so because they were not wearing eye protection or were not wearing the right kind of eye protection.
Safety glasses should be worn anytime work activities put your eyes at risk for any type of damage; after all, we all only get one set of eyes!
Our Top Glasses Pick
Pyramex Fortress Safety Glasses
Our Top Goggles Pick
DEWALT DPG82-11/DPG82-11CTR
10 Best Safety Glasses for Construction
There are many different options on the market, ranging from lightweight sunglasses to heavy duty goggles.
Some safety glasses are even designed to be worn in conjunction with prescription glasses.
1. Pyramex Fortress Safety Eyewear
The Pyramex Fortress safety glasses are a simple, affordable option designed for all types of basic construction work. They are suitable for work in hot environments and feature a scratch-free lense.
---
2. DEWALT Safety Goggles
DEWALT's Dual-Mode Safety Goggles are designed to provide a high level of eye protection in the midst of flying sawdust and other particles. This cost-effective option offers ventiliation channels for added comfort and breathability.
---
3. No Cry Safety Glasses
The No Cry Safety Glasses provdies wraparound lenses designed to protect the eyes during woodworking and construction work. This is a cost-effective option, and the lenses are scratch-resistant and contain an anti-fog coating.
---
4. Oakley Gray Industrial Safety Glasses
The Oakley Gray industrial safety glasses are appropriate for outdoor use and are designed to keep the eyes safe from flying debris and other hazards. These glasses are approrpiate for outdoor construction work.
---
5. Miller Electric Shade Welding Safety Glasses
These Miller Electric Shade glasses are sturdy, scratch-resistant, and specially desigend to protect the eyes during welding projects.
---
6. 3M Virtura Safety Glasses
3M Virtura's safety glasses feature a comfortable, lightweight frame and are perfect for home improvement projects (example: building a shelf or bookcase, hanging pictures, using a hammar and nails, etc.)
---
7. Elevex AirSpecs
The Elevex AirSpecs feature a mesh lense and are specially designed for outdoor use during landscaping work. These shades are designed to protect the eyes from leaves, twigs, and small branches.
---
8. Crossfire Safety Glasses
Unlike many safety glasses, which look like boxy goggles, Crossfire's safety glasses are designed to double as sunglasses. They are lightweight and are appropriate for a wide variety of outdoor construction and maintenance projects.
---
9. JOLIN Protective Windproof Glasses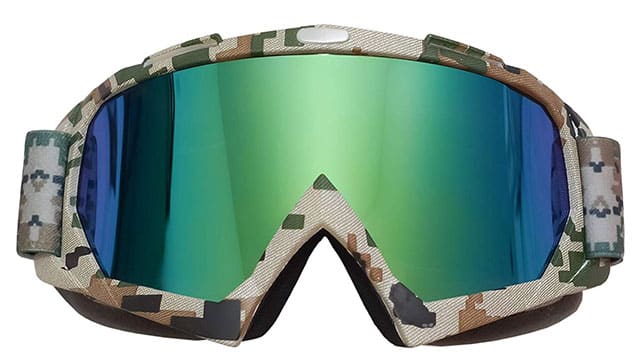 Jolin's safety glasses are designed to provide a high level of eye protection in windy, dusty conditions. These glasses have a multi-coated lens and are appropriate for outdoor use.
---
10. Bolle Rush + Safety Glasses
The Bolle Rush + Safety Glasses feature an upper lip specifically designed to protect the eyes from debris falling down from above. These glasses are appropriate for a wide variety of construction projects, as well as tree removal and other outdoor work.
When should I use safety glasses?
Safety glasses should be used to protect the etes any time you work with construction materials, even if the task is as simple as putting together a Wayfair bookshelf at home. Here are some common tasks that require safety glasses:
Using a chainsaw
Nailing
Using a wood chipper
Using a circular saw
Grinding
Sanding
Cutting or mounting any type of materials
Welding
Mixing cement
Using any other type of construction equipment
Any task that exposes you to sawdust or other particles
What are the risks of not wearing safety glasses?
Engaging in any type of construction work without eye protection can expose your eyes to a number of dangers. Here are just a few:
Eyes can become irritated and/or infected from the entrance of a foreign particle (example: sawdust, wood splinters, etc.)
Eyesight can be permenantly altered by exposure to splashes of concrete and otehr chemicals
Eyes can be seriously injured by flying nails and other foreign objects
Blindness can occur
In the most serious cases, an entire eye can be lost due to workplace injury
OSHA Requirements:
OSHA (Occupational Health & Safety Administration) has detailed regulations around when proective eyewear should be worn in the workplace. You can find more details here.