Flat light can make it extremely difficult to navigate in snowy weather. You can ask any experienced Skier, and they will tell you that it is crucial to have a good pair of snow goggles that protect your eyes.
Our Top Pick
Wildhorn Roca Snow Goggles (US Olympic Team Supplier)
Budget Pick
ZIONOR X Ski Snowboard Goggles
1. Wildhorn Roca Snow Goggles
The Wildhorn Roca Snow goggles offer durability and comfort at a reasonable price. The Roca snow goggles provide maximum visibility and UV protection.
Perfect for: Skiing
---
2. Anon M2 Snow Goggles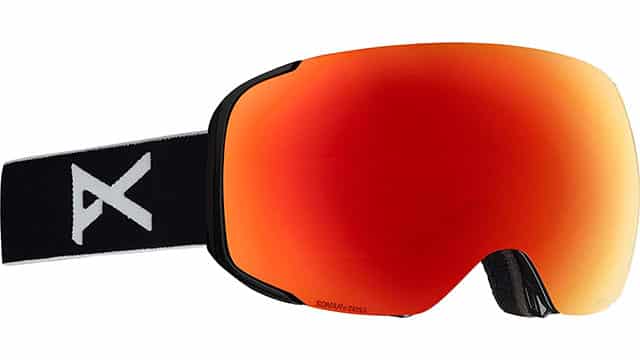 The Anon M2 Snow goggles offer superior optics with a nonslip silicone strap that keeps glasses in place. These lenses are designed for bright conditions; however, they include a spare lens for cloudy conditions.
Perfect for: Ski/Snowboarding
---
3. Smith 4D Mag Goggles
The Smith 4D Mag Goggles come with bright light and low light ChromaPop lenses providing the best visual acuity. The 3-layer DriWix face foam and Ultra-wide silicone strap leave the wearer with extreme comfort. With its outstanding reviews and the consistent love for the interchangeable lenses, this set of goggles is our top pick for the best snow glasses.
Perfect for: Ski/Snowboarding, Mountain Climbing
---
4. Oakley's Airbrake XL USOC Blazing Eagle Snow Goggle
Oakley designed these goggles to provide you with unparalleled peripheral vision. They are oversized, making them perfect to wear with or without a helmet, and they provide substantial wind protection.
Perfect for: Ski/Snowboarding
---
5. POC Fovea Clarity Comp Goggles
The POC Fovea Clarity Comp Goggles are great for high-performance sports. The clarity lenses give skiers and snowboarders all-day precision, and the unique strap design provides the perfect fit.
Perfect for: Ski/Snowboarding Competitions
---
6. Dragon PXV Goggles
The Dragon PXV Goggles feature color optimization and precise depth perception. The lens repels water, dirt, and oil making them perfect for snowy weather.
Perfect for: Skiing, Ice fishing
---
7. Zinor Lagopus X4 Goggles
The Zinor Lagapus X4 Goggles are ultra-wide, providing optimal wind protection. These goggles have an adjustable elastic head strap, and they provide 100% UV 400 protection.
Perfect for: Snowmobiling, Snowboarding/Skating
---
8. Outdoor Master OTG Ski Goggles Pro
At $38.99, you are getting the deal of a lifetime. Outdoor Master OTG Ski Goggles Pro fits perfectly over glasses, and the double-layer lens gives you a fog-free experience.
Perfect for: Skiing
---
9. Zinor Lagopus X Ski Snowboard Goggles
The Zinor Lagopus X Ski Snowboard Goggles were designed for comfort and safety. The high-performance venting system keeps your face dry and warm.
Perfect for: Skiing
---
10. Giro Method Goggles
The Giro Method Goggles boast a wide field of view, offering crisp visibility and comfort. The triple-layer face foam with microfleece provides the perfect set of goggles for all-day comfort.
Perfect for: Ski/Snowboarding, Ice Climbing, Mountain Climbing
---
11. Bolle Virtuose Goggles
The Virtuose Goggles offers a venting system that prevents moisture from entering the lens, promoting exceptional viewing. All Bolle's eyewear blocks out harmful UV rays, and they provide a thermal barrier that blocks out cold, dry air.
Perfect for: Ski Biking, Ice Climbing, and Snowboarding
Frequently Asked Questions
Q: Why lens material should I get?
A: You should purchase polycarbonate or tivex lenses for eye protection. Polycarbonate lenses are lightweight, scratch-resistant, and impact resistant. Anytime you are engaging in a physical sport, you should wear goggles that provide the proper protection. Your sports goggles should always be equipped with polycarbonate or trivex lenses.
Q: What is a polarized lens?
A: A polarized lens blocks out horizontal light, allowing the wearer to see objects crisper and more precise. They drastically cut out glare and even help see through water. Polarized lenses are the ideal lenses for any outdoor activity.
Q: What is UV Protection, and why do I need it?
A: Sunlight is the main source of UV radiation. Just like our skin, our eyes can burn from UV rays. Snow acts as a reflective blanket and can push UV rays into the back of the eye. UV rays can cause cataracts, macular degeneration, pterygium, skin cancer, and corneal sunburn. UV protection is a coating used on lenses to block out UV radiation. It is imperative always to have UV protection on eyewear.
Q: What is the best lens color?
A: Based on research, yellow, red, and orange tints enhance color contrast and decrease distortion. These colors are best suited for snowy weather. However, if the lenses are polarized, color is no longer a factor. Polarized lenses sharpen clarity and cut out glare.
Q: Should I get my prescription in goggles?
A: If you plan on putting your prescription in goggles, make sure you get them at a reputable dealer. Most goggles have a wrap design for full coverage, and when you wrap your prescription, you can cause distortion. It would be best to meet with a qualified optician or doctor to go over your options for prescription goggles. If you do not plan on putting your prescription in your goggles, make sure you purchase goggles designed to go over an existing pair of glasses.
---
Sources