Protective eyewear is a necessity for anyone operating a firearm, whether that's on a shooting range or hunting in the great outdoors. If you wear contacts or don't need any visual correction, a quality pair of contoured sports goggles or safety goggles will do the trick. If you prefer a pair of prescription lenses, there are several great Avatar-style options on the market, specifically designed for aiming a straight shot.
Our Top Pick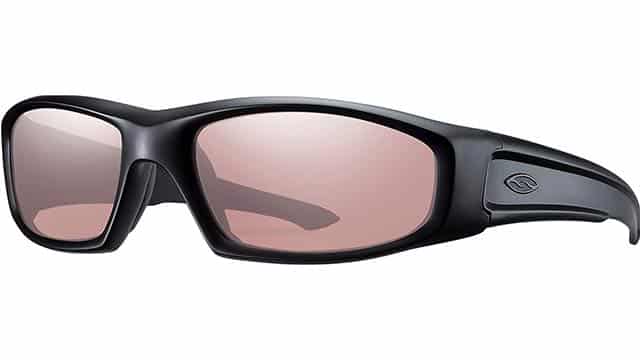 Smith Optics Hudson Tactical Sunglasses
Our Budget Pick
Honeywell Anti Glare Shooting Glasses
1. Smith Optics Hudson Tactical Sunglasses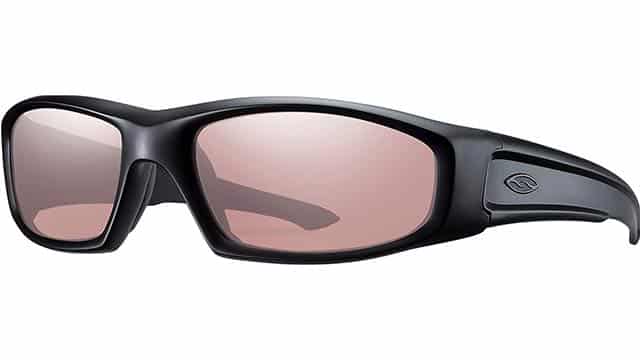 Designed for military and law enforcement professionals, these tactical sunglasses feature a comfortable, lightweight frame and tapered lens technology. The Smith Optics Hudson sunglasses meet US military ballistic impact requirements.
Pros: These sunglasses contain nose pads for comfort. The frames fit well on all many different face shapes and sizes.
Cons: These sunglasses do not offer the option for prescription lenses, so this option is best for those who wear contact lenses or do not require visual correction.
---
2. Magpul Terrain Sunglasses
These sunglasses feature durable, comfortable frames with ballistic protection, uniquely designed for shooting in rugged outdoor conditions and designed to withstand bright sunlight. The lenses contain high impact protection; polarized and non-polarized options are available.
Pros: Very sturdy; the large frames provide maximum protection.
Cons: The nose bridge is a bit high and may not be a good fit for smaller faces. Additionally, these lenses are not the most affordable option on the market.
---
3. Honeywell Anti Glare Shooting Glasses
Honeywell's Howard Leight glasses features a wraparound lens with an amber tint, designed for use in shooting environments with low light (example: at dusk in a densely wooded forest.) The anti-fog lens coating is designed to withstand inclement weather.
Pros: This is a very affordable option! The Honeywell glasses are the perfect option for someone who is new to the range.
Cons: The frames are slightly flimsy and may need to be replaced more frequently than other options. These glasses are not compatible with other headgear, so they are designed only for those who wear contact lenses or do not require any type of visual correction.
---
4. Allen Company ShootingGlasses (for Use with Prescription Glasses)
Allen Company's safety glasses fit comfortably over prescription glasses, but can also be worn on their own. The oversized yellow lenses are designed to provide maximum protection while maintaining comfort.
Pros: This is a highly affordable option! These glasses fit very comfortably with ear muffs, making them a prime option for the range.
Cons: The lenses do not contain an anti-fog sealant, so these glasses are not best for use in precipitous weather.
---
5. Wiley Saber Advanced Shooting Glasses
These Wiley Saber glasses were precisely designed for a day on the range. These advanced shooting glasses feature shatterproof lenses and UV protection, designed to block the sun's harmful rays.
Pros: These glasses are very sturdy and offer lenses in several different tints.
Cons: These glasses are slightly smaller than several other popular shooting glasses and don't fit very comfortably over prescription frames, so this option is best for contact lens wearers or those who don't require visual correction.
---
6. ESS Crossbow Suppressor
Often utilized by military personnel, the ESS Eyewear Crossbow Suppressor shades were the first safety glasses designed for use in conjunction with ear muffs and other forms of ear protection. The non-polarized lenses are impact resistant and contain 100 percent UV protection.
Pros: The unisex, universal fit is designed to fit comfiortably on multiple face shapes.
Cons: These lenses are a bit of an investment and are not the best option for those in need of prescription sunglasses.
---
7. Venture Gear Overwatch Sunglasses
These unisex sunglasses are designed for high velocity impact and contain 99% UV proection. These shades feature a rubber nose piece and temple grips for maximum comfort. The anti-fog lenses are a game changer in humid climates.
Pros: These sunglasses are highly durable, yet inexpensive. Unlike many safety sunglasses, these shades have a much more casual, non-tactical look.
Cons: These wraparound frames are not collapsable. Additionally, the frames run slightly small and may not fit comfortably on larger faces.
---
8. Mossy Oak Women's Shooting Glasses
These comfortable clear and pink glasses were designed for ladies who hit the range! These shades can be worn comfortably along with ear protection or head gear.
Pros: Very affordable, yet durable and sturdy.
Cons: These glasses do not contain UV protection and are not designed for use in sunny climates.
Frequently Asked Questions
Q: What kind of climate will you be shooting in?
A: Will you be deep in a forest or on a sunlit range? Determining the terrain and level of sunlight you'll be shooting in can help you determine which lens tint to purchase, whether you need sunglasses with UV protection, and whether a polarized lens is the best choice for you.
Q: Do you need prescription lenses?
A: If you wear contacts or don't require any visual correction, purchasing prescription shooting glasses will likely not be an issue. However, if you typically wear glasses, you'll either want to purchase a pair that is designed to fit over glasses, or you'll want to have a prescription pair of safety glasses made.