Talking thermostats are designed to announce the temperature in a loud, clear voice. They're especial useful for anyone with visual impairments.
With the simple push of a button, you'll know the temperature of your home and will have access to easy automatic programming, allowing you to minimize utility costs and maximize the comfort of your space.
If you're in the market for a talking thermostat, here are a few great options to consider:
1. VIP 3000 Talking Thermostat
VP 3000's thermostat announces the day, time, and room temperature in a loud, clear voice. This device is easy to use and includes a five-year warranty.
---
2. HPS Talking Thermostat for Multiple Stage Systems
This talking thermostat has been described as the most user-friendly programmable thermostat available for purchase. Features include verbal step-by-step programming instructions designed to regulate temperature and minimize utility bills, along with a verbal alert when a new filter is required.
---
3. Emerson Sensi Smart Thermostat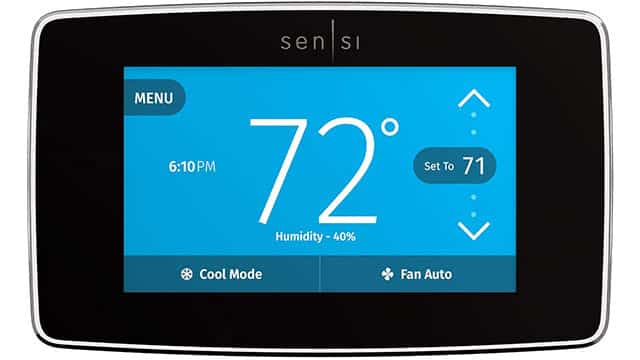 Emerson's Ensi Smart Thermostat allows for remote access to temperature control; this device is compatible with Alexa and Apple Home Kit for voice controls. When paired with an Amazon Echo, this device is designed to receive verbal commands for a change in temperature, making this an ideal piece of assistive technology for the blind.
Note: if it is not paired to Amazon Alexa or another smart voice device, then it will not function as a talking thermostat.
4. Innotech Systems Programmable Thermostat
Innotech's talking thermostat is designed to raise or lower the temperature of an indoor space by using voice commands. This device can be easily programmed with up to four different daily temperatures, for morning, afternoon, evening, and night. This thermostat has a simple design and is easy to use.
Frequently Asked Questions
Q: I'm still on the fence about purchasing a talking thermostat. What are the biggest perks?
A: Talking thermostats allow you to control the temperature of your home with a simple press of a button or a verbal command; they are designed to announce the temperature of your indoor space in a loud, clear voice. Talking thermostats will allow you to regulate the temperature of your home, while maintaining comfort and lowering your utility bills.
Q: What are the most important considerations when purchasing a talking thermostat?
A: Because talking thermostats can include a number of different important features, here you may want to ask yourself these questions:
What is my budget? (Talking thermostats can range from less than $70 to several hundred dollars, depending on the model.)
Is it important for me to be able to control the temperature remotely? (If so, you'll likely want to consider a smart thermostat.)
What is my current access to WiFi? Am I able to purchase a thermostat that requires WiFi, or is it more amenable to have a device that does not require thus connection? (If you prefer a device that works without WiFi, you'll want to eliminate smart devices.)
Beyond regulating temperature, are there other features that feel especially important to me? (Announcing when the air filter is dirty, announcing the day and time, etc.)
Q: I'm interested in a smart device, but I'm not very good with technology. What are your thoughts?
A: Although purchasing a smart device may feel a bit daunting if you don't have much previous experience with similar technology.
However, these devices come with step-by-step verbal directions for set up and use, making them very easy to operate. Once you use a smart thermostat for a few weeks, you'll likely feel like a pro!